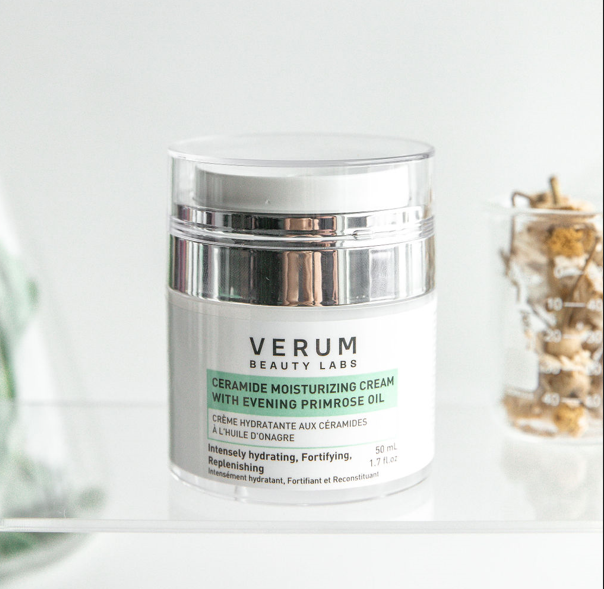 CERAMIDES AND AGING: LEVERAGING SCIENCE AND NUTRITION FOR SMOOTHER SKIN
Why does our skin appear drier and rougher as we age—or at all? And is it possible to change our skin's appearance through changes to our routine alone?
While genetics certainly play a role, the fact is that the natural aging process combined with harsh soaps and exfoliants can cause one component in particular to deteriorate—enter ceramides!
WHAT ARE CERAMIDES?
You've probably heard about ceramides, as the term is becoming a buzzword in the skincare world. You may already know that they're a key ingredient in many moisturizing products, including our Ceramide Moisturizing Cream with Evening Primrose Oil. But what are they, and why do they matter to your skincare routine?
Ceramides are one of the major players in the outer layer of the skin, or the "stratum corneum". They belong to the lipid family— a naturally occurring group of compounds found in food and living cells. Their most important quality is that they are hydrophobic (hydro = water, phobic = averse/fearful). In other words, they don't dissolve in water.
"But wait, Eira, isn't the whole point of a ceramide to add moisture to the skin?! If they're afraid of water, won't they dry my skin out?!" Well, ceramides make up the brick-and-mortar structure of the skin, creating a barrier or wall that is choosy about what gets in and out. This way, the skin is able to retain moisture, keeping our skin feeling fresh, hydrated, and happy, and defend against environmental factors like allergens and pollutants.
WHY—AND HOW—TO SUPPLEMENT WITH CERAMIDES
As we age, the lipids in the stratum corneum tend to decrease—up to a whopping 30%! Thus, the more birthdays under your belt, the more likely you are to experience dry, rough skin. However, sometimes our skin's moisture barrier is disrupted regardless of age, which presents as inflammatory conditions such as atopic dermatitis, eczema, and psoriasis.
This is where skincare science—and the science of nutrition—comes into play.
Skincare science has advanced such that we can manufacture products that contain lipids identical in chemical structure to the ones found in our skin. By supplementing with ceramides via your skincare, you can improve skin conditions, boost barrier function and hydration, and even help protect against sun damage. (And, because the ceramides found in skincare formulations like ours mirror the ones in our skin, they suit all skin types, including sensitive skin.)
 
For the most bang for your buck, the best thing you can do is combine dietary sources of ceramide with ceramide-enriched skincare. Foods such as soybeans, wheat germ, sesame, coconut, grape seeds, peanuts, and spinach have all been shown to boost ceramide production in the body (among all their other health benefits!).

WHICH CERAMIDE PRODUCT IS RIGHT FOR ME?
Our Ceramide Moisturizing Cream with Evening Primrose Oil contains all three ceramides available on the market today: Ceramide NP, Ceramide AP and Ceramide EOP. The addition of Evening Primrose Oil adds oomph via Omega-6 fatty acids; where other oils may assist with temporarily improving the skin's barrier, evening primrose oil has actually been proven to help rejuvenate the skin.
We've found this formula to be the most effective in replenishing diminished ceramides—which, as you now know, help to a) reinforce the skin's barrier, b) increase hydration and c) relieve conditions associated with a compromised skin barrier.
It's the perfect solution to rejuvenate aging skin and provide relief for extremely dry conditions!
REFERENCES
Journal of Dermatological Science 97 (2020) 2–8
American Journal of Clinical Dermatology, 2003 4(2)
Clinical, Cosmetic and Investigational Dermatology 2017:10 363–371
Clinical, Cosmetic and Investigational Dermatology 2018:11 491–497